October 15, 2005
---
October 3, 2005
September 23rd was the first trans-Tasman day of action against ANZ's profiteering from the illegal occupation of Iraq. Actions took place in 8 cities across Australia and Aotearoa/New Zealand (Auckland, Brisbane, Melbourne, Newcastle, Sydney, Wellington, Wollongong), with many branches shut down, flyers handed out, stickers stuck and chants yelled. Lets make October 21st hit them even harder!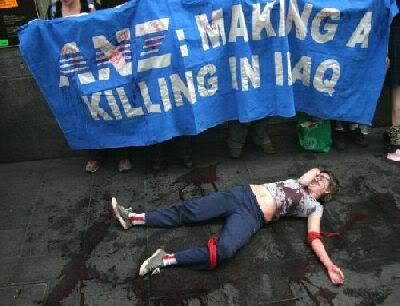 Why protest at ANZ?
ANZ is one of a number of international banks involved in a consortium known as the Iraq Trade Bank (ITB). The ITB, created by the US-led Coalition Provisional Authority, is the driving force behind the privatisation of Iraq's natural resources and the exploitation of the Iraqi people.
Some suggested chants
One hundred thousand Iraqis dead
Who's making profit? ANZ!
ANZ, ANZ, one hundred thousand Iraqis dead
S C U M, what does it spell? SCUM!
So, get your affinity groups together and start organising today!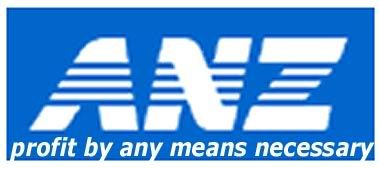 ---